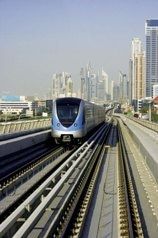 The Dubai Metro's red line 'World Trade Centre Station' serves the exhibition centre.
The route connects the exhibition centre with Dubai International Aiport and all stops throughout the city's sights, malls and hotel districts, including some of the best views of the city!
Trains run every seven minutes to all major business, tourist and residential areas, with options such as Park and Ride, or feeder buses which connect your neighbourhood to the metro, making this an efficient and cost effective mode of transport.

Car parking facilities area available on the Red Line at Rashidiya (2700 Spaces) and Nakheel Harbour & Towers (3000 spaces) and on the Green Line Etisalat (3000 car park spaces).

METRO OPERATIONS HOURS
Sunday–Wednesday 5:50am - 00:00am
Thursday 5:50am - 01:00am
Friday 10:00am- 01:00am
Saturday 5:50am - 00:00am

Check the official guide to plan your metro trip.